"Special Monster"
is a loose term used to describe
Monsters
that are only available in the
Monster Life
Shop
for a limited period of time. Typically, these monsters are available during seasonal sales throughout the course of the year; sometimes corresponding with
Holidays
. Generally speaking, Special Monsters have stats that make them particularly desirable. They're also usually available to all players, though some do need to be unlocked by attaining a certain level in the game.
Fall 2012
Halloween
Pumpkinster
and
Frankenster
were offered in the Shop as Special Monsters during October, 2012. Pumpkinster is unique in that he gains experience particularly slowly compared to most other monsters. Even though the Halloween promotion was over for 2012, Frankenster can still be obtained as a prize in the Gold
Lottery
, and
Pumpkinster
can now be obtained anytime in the shop for 30,000
gold
.
Thanksgiving
During early November of 2012,
Pilgrimster
became available as a Special Monster. Rather than being available throughout the entire month, Pilgrimster was removed from the shop on
Cyber Monday
. Pilgrimster is now available in the shop all the time for 260
crystals
.
Winter 2012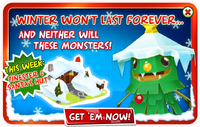 Gameloft began releasing winter-themed Special Monsters and
Buildings
in the Shop during the first full week in December.
Pinester
was released during the third full week of December and was removed from the shop in early January: the only special monster through the event. Though there are probably no plans to remove them from the shop,
Starster
and
Reindeerster
are two other winter-themed monsters that were released during the first and second full week of December respectively.
2013 Halloween
For Halloween 2013, they added Frankenster as a special monster, and lowered the price of Pumpkinster to 3,000 gold. They also added Huolongster for Chinese New Year, Cupidster for Valentine's Day, Cloverster for St. Patrick's, and Pinester returned for Christmas. They lowered the price of Stonester and Rhinoster.